Are the Math Geniuses Aliens?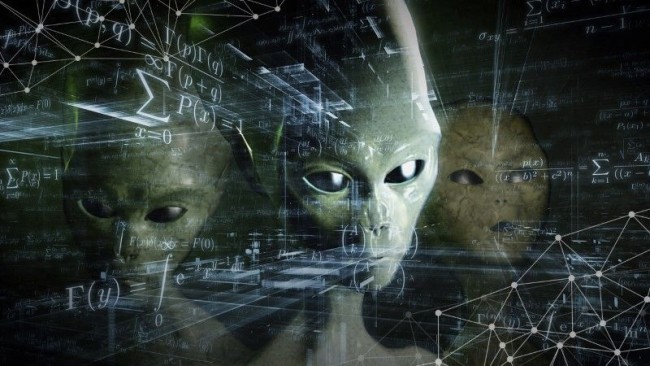 Eshan Maitra
To tell the truth, they are bit differently wired in the brain, but not entirely aliens. A group of scientists at University of Paris, France, says so. There is quite the difference that can easily be traced if a person's brain was put into fMRI scans. This scan determine which parts of the brain are lit up while processing something. The results were astonishing when they gathered up a group of 30 people including 15 high-level Mathematic majors and 15 high-level of other academics. The scan totally brought distinct features between the mathematicians and others.
The scientific test on these 30 people were very simple. They were just put into fMRI scan, which totally harmless. Then they were just asked simple questions that could be answered with 'true' or 'false'. There were only two categories, word based language processing questions and few math based critical thinking questions. As far now, it was believed that both math and language based thinking and problems were done in the same part of the brain. But peculiarly it was different for the math majors!
Every other ones' fMRI scan showed expected results (Well, they couldn't solve most of the math problems, but they cannot be blamed). But when the mathematicians were processing these problems, a different part of their brain was lighting up! The parietal, the prefrontal, and inferior temporal regions. Oddly, this never happens with any other people. Though, in the case of all these mathematicians (each and every one), the results were the same. The scientists successfully discovered a particularly complex brain issue. The lead scientist Bob Yirka told at Medical Xpress, "Because they were not trained in higher level math, the same areas in the brains of the non-mathematicians lit up only when asked more general questions about numbers and math formulas."
They are still trying to figure out if they were born with it or not. But if they were, the same kind of brain pattern behavior should have been seen in others as well, those are non-mathematic major. Most of the researchers who are also working on the same subject, strongly suggesting this is a trained power. Well, this might not make you feel like a super-man.
But with the extra parts of the brain backing you up for solving a problem sure might make you a mathematic genius. After all, practice is the key of success. Keep brain storming hard!
The team's impressive findings are published at "Proceedings of the National Academy of Sciences".