[1] Chattogram bring in another change in captaincy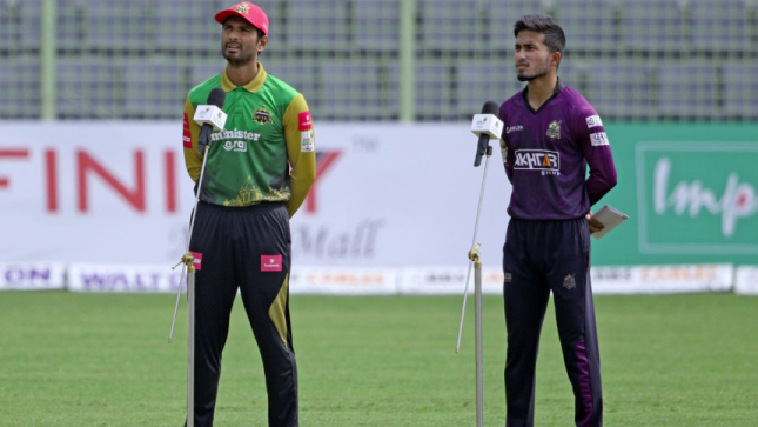 DOT Desk: [2] Chat-togram Challengers once more surprised at the toss, bringing in a new captain in Afif Hossain to replace Naeem Islam for their match against Minister Group Dhaka in the ongoing Bangabandhu Bangla-desh Premier League in Sylhet yesterday, reports The Daily Star.
[3] Previously, the franchise had come under intense media focus after they had replaced Mehedi Hasan Miraz with Naeem as their captain just before a match against Sylhet Sunrisers.
[4] Naeem Islam's form is the issue for the change in captaincy with the franchise still having a slim chance of going through to the playoffs. Naeem has been altogether dropped for their game against Dhaka today at the Sylhet International Cricket Stadium. "We've got one change. Naeem bhai is not playing, Zakir comes in. He's not injured but he's not playing," Afif responded to a question at the toss.
[5] "Naeem's form has not been good lately. This is why the team has decided to change captaincy with Afif as our new captain," Chattogram Challengers' team manager Fahim Muntasir informed when inquired about the change.
[6] Dhaka have won the toss and are currently fielding in their game against Chatt-ogram. Yesterday, Sylhet Sixers had to change their captain right before the toss as Ravi Bopara replaced Mosaddek Hos-sain as captain. To make things even peculiar, Bopara then got embroiled in a ball-tampering incident which saw Sylhet penalised five runs.
The curious captaincy changes have seen the BPL garner focus for the wrong reasons. Naeem played eight matches, scoring at an average of 10.57 and a strike-rate of 117. He was brought in as captain but the reason had been just as peculiar as the changes.
The team management had back then suggested that they were looking to play more aggressive cricket, which is why Naeem was brought in for Miraz. Chattrogram have won only three of their eight games so far and two of those wins came under Miraz's captaincy.